SDSU Associate Professor Receives $200,000 Grant
Dr. Katherine Spilde's work will focus on creating responsible beverage service standards for Anheuser-Busch In-Bev.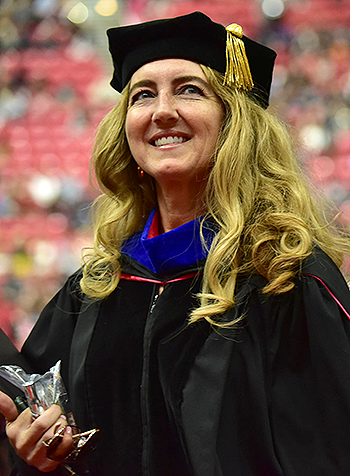 September 19, 2017
By Anna Waletzko
Dr. Katherine Spilde, an associate professor in SDSU's L. Robert Payne School of Hospitality and Tourism Management, has received a $200,000 grant from Ohio State University.
Research Goals
Research for the grant will focus on creating responsible alcohol service standards for Anheuser-Busch In-Bev (ABIB). ABIB, known primarily for brewing Budweiser, has committed one billion dollars for the next 10 years to develop global smart drinking goals in four targeted areas: reducing DUI's, reducing underage drinking, creating responsible training and service standards, and developing low and no-alcohol based products.
Spilde's research will focus on responsible beverage service standards. "This includes things like training servers in a bar or a baseball stadium how to cut people off or how to get them safely into a taxi." Implementing these programs could lead to lower DUI rates.
Global Impact
The research will result in tool kits, including videos, training, television and billboard advertisements. These tool kits will be implemented not only in the United States, but also internationally. Researchers will travel to countries such as Brazil, China, Mexico and Belgium. They will work with local stakeholders including police, government officials or bar and restaurant owners to implement findings.
"What works in Columbus, Ohio, might not work in Brazil," said Spilde, who has expertise in cultural translations because of her background as a cultural anthropologist.
Research Team
Research will be conducted by several universities including Ohio State University, University of Southern California and San Diego State University. Spilde, Principal Investigator for the SDSU portion of the grant, will be working with David Kamper, associate professor in the American Indian studies department and James Lange, doctoral faculty in the Graduate School of Public Health.
Spilde teaches a course at SDSU about addiction syndrome which includes alcohol and other addiction behaviors, such as gambling.
The content within this article has been edited by Lizbeth Persons.
More PSFA Stories