School of Hospitality and Tourism Management Engages Students in Innovative Themed Weeks
Themed weeks address wellness and recreation, diversity and inclusion, and leadership, allowing students to engage and reflect on topics relating to the industry.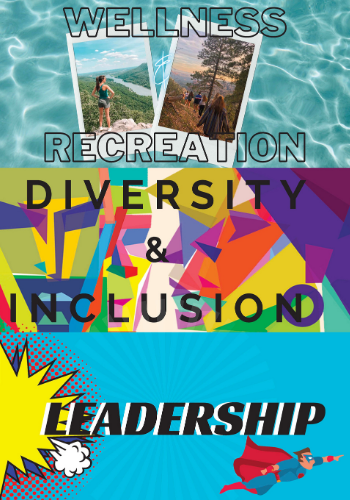 by Aleah Jarin
November 6, 2020
​November 6, 2020
The L. Robert Payne School of Hospitality and Tourism Management (HTM) has innovated amidst the pandemic, and found a way to bring back some of the lost student-professor connection by creating three themed weeks this fall semester to encourage student engagement.
Faculty and staff members identified three significant themes: wellness and recreation, diversity and inclusion and leadership. These areas of focus relate to the hospitality, recreation and tourism management field, and students have been encouraged to take a moment to learn from, and reflect on these timely topics. The first two themed weeks took place during week three and seven of this semester, the final themed week will take place in week 11.
School of HTM Professor Katherine Spilde, chair of the Sycuan Institute on Tribal Gaming, explained how important these three weeks are to the School because of the industry they are in.
"It's especially poignant for our school to have come up with and proposed these themed weeks because the shutdown…has really highlighted the critical importance, the human need for recreation, wellbeing, for travel, for gathering…all the things that we teach in our school," Spilde said.
Spilde said all faculty and staff members came together to develop the themed weeks because they wanted to keep students' morale up and continue to model a spirit of optimism during this time.
"What we did with the three themes was [to try and] get students to go back to engaging in those things…and encouraging our students to put down the class work and go and do something physically and emotionally with their peers," Spilde said.
The first themed week focused on wellness and recreation. Throughout the week, faculty, staff and student organizations provided short videos on the School of HTM advising Instagram page to demonstrate what the different areas of wellness look like, such as social, intellectual, emotional, spiritual, physical and financial wellness. Students also participated by sharing photos on Instagram during the week with the hashtag #PayneSchoolTogether to show their personal wellness experiences.
In week seven, the school addressed diversity and inclusion and provided resources and events for students to have conversations about this topic, and how it is reflected in the hospitality and tourism industry. A panel was also held via Zoom called "Real Talk: Women in Hospitality," sponsored by the Castell Project, where women hospitality executives discussed their leadership and career. School of HTM Professor Sandra Ponting said the school tried to delve into the topic of diversity and inclusion with this themed week.
"We had different kinds of events where we got the students to really have a deep dive into what are the barriers of our school practicing diversity and inclusion, and what are some of the things that we do really well," Ponting said.
She also shared that this themed week ties into San Diego State University's strategic plan regarding the priority of "Equity and Inclusion in Everything We Do."
"This actually feeds into our diversity and inclusion plan for the school," Ponting said. "I'm a part of that committee, so we're going to address [the areas of focus for the themed week] as well."
The final themed week, taking place in week 11, touches on leadership and encourages students to answer the question, "what is your leadership superpower?"
"Essentially the [message] is that we want our students to lead as who they are, lead from where they are to build their own leadership communities by using their leadership superpower," Ponting said. "We're giving an opportunity for our students to really focus and localize their leadership in their environments."
Ponting said some examples of this type of community leadership include leading a Zoom call with family members, leading a socially distant picnic with friends, or Zoom study groups. The School of HTM wants to address the kind of value students are adding to their communities by demonstrating their leadership superpower.
Hospitality and tourism management junior, Alexys Bolduc, shared how these themed weeks have kept her engaged during these times.
"Everything is so crazy now and being able to take a break from back to back classes and actually talk to the SDSU community has been monumental [knowing] that there are others in the same exact boat as I am, and are genuinely there to communicate," Bolduc said.
"Never in my entire academic career have I ever been more involved and in the know of what is going on within the school and my peers' lives," Bolduc said.
To see the activities students participated in during the weeks, visit the School of HTM advising Instagram page here, and stay up to date on future events with the School of HTM's Instagram here. Visit the school's website at https://htm.sdsu.edu.
The content within this article has been edited by Lizbeth Persons.
More PSFA Stories