PSFA Statement on Institutional Racism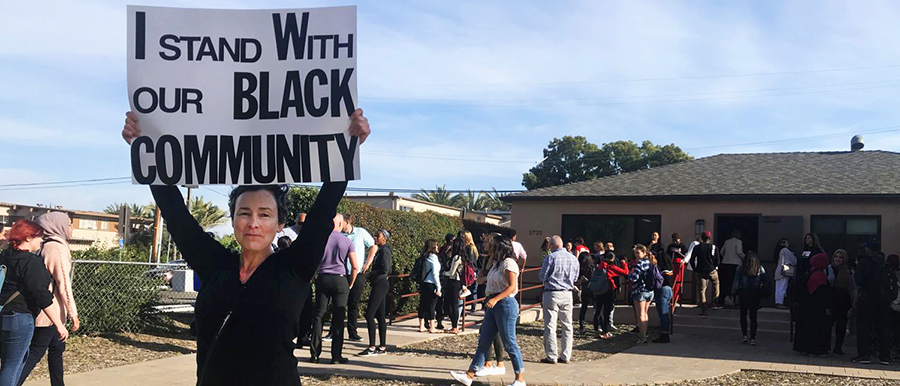 June 8, 2020
Statement Against Anti-Black Racism from the SDSU College of Professional Studies and Fine Arts.

June 7, 2020
On behalf of the students, faculty and staff of the College of Professional Studies and Fine Arts; and the Schools of Art + Design; Communication, Hospitality and Tourism Management; Journalism and Media Studies; Music and Dance; Public Affairs; and Theatre, Television and Film, we publicly pledge to take a firm stand against anti-Blackness racism.
We join the rest of the global community in sadness and outrage at the senseless deaths of Black people including George Floyd, Breonna Taylor, Ahmaud Arbery, and Tony McDade resulting from anti-Black racism and police violence.
We pledge solidarity with Black-led organizations and others all over the world who are protesting injustice, state-sanctioned violence and systemic racism.
We want to be a model for the kind of society our city and country aspire to be, by coming together and reconfirming our values in thought and action and by condemning racism, bigotry and hatred, in all of its forms and wherever it takes place.
We recognize that racism can be both intentional and unintentional. People may have the best intentions, but still say or do things that are considered racist. It's about impact and not intent. PSFA will practice, and continue to practice, reflexivity and assess the impact of our policies, practices, and rhetoric. These practices will be institutionalized and will continue to be part of the college's structure moving forward and not just in times of public scrutiny.
Therefore,
We state unequivocally that Black Lives Matter.
We will work together in this critical moment to harness collective energy for meaningful and actionable change.
We will work to decentralize whiteness in every aspect of our College, including our classrooms, studios, and public events.
We will work to amplify Black scholarship and contributions.
We make a public commitment to increasing the diversity of PSFA instructors and staff.
We commit to having more diversity in PSFA administration.
We will provide regular seminars and mandatory courses for our community on the dangers of systemic racism, taught by racial justice educators who will be financially compensated.
We acknowledge that the free intellectual and emotional labor from our community's Black students, staff, and instructors to educate the community on their trauma will no longer be considered sufficient.
We will connect with community-based Black-led and other anti-racist organizations to promote our common goals.
We will develop teaching and curriculum resources for faculty including DEI resources, racism-specific resources, and resources for dialogues about oppression and racism.
We will develop teaching and curriculum resources for faculty.
We will center diversity, equity and inclusion in our decision-making process.
We will encourage both implicit and explicit bias training for all PSFA faculty and staff.
We will listen and respond to voiced complaints by students, faculty, and staff.
We encourage ALL faculty, staff, and students to speak up when they witness a racist incident by reporting the incident through the university's Inclusive SDSU reporting system.
We maintain an active diversity council with representatives from all seven schools, staff, and students.
We commit to having SDSU diversity liaisons (from outside of the college) serve on hiring committees.
We will create partnerships with outside colleges to bring in diverse pedagogy and content into PSFA classrooms and courses.
We will create space, instead of taking up space, for students, faculty, and staff of color.
We will offer mentorship programs.
We will form an elected Leadership Committee with responsibilities to include oversight of the above pledges.
Statement Against Racism and Violent Police Practices from the SDSU Master of Science in Criminal Justice and Criminology Program
As graduate students in the Master of Science in Criminal Justice and Criminology (MCJC) program, we grieve the lives lost in the Black Community. We stand in solidarity with our peers, families, teachers, friends, and neighbors against the continued injustice they face. As we transition into our careers in all sectors of society, we condemn the underlying culture of racism and violence in our country that has led us to where we are today.
Racism in the United States is systemic and embedded in every institution; our criminal justice system is no exception. As future leaders in the field of criminal justice, we are united in taking a stand against racism and violent police practices that target and destroy Black lives and communities of color across the country and around the world. Our goal is to effect change between our communities and law enforcement that will reflect a new generation that invites inclusion, diversity, and a dialogue between students, our communities, and law enforcement.
The head of the School of Public Affairs, Dr. Sherry Ryan, has initiated immediate changes that will help contribute to the education and discourse surrounding police brutality. By implementing new programs for the law enforcement officers as well as requiring that every criminal justice student take coursework on Black individuals and policing, the University strives to further amplify Black voices and lived experiences.
We share these names: George Floyd, Ahmaud Arbery, Breonna Taylor, Trayvon Martin, and Eric Garner, as stark reminders of the few deaths representing thousands murdered in order to fight the lives lost. Together, we stand in solidarity with the Black community in the fight against systemic racism and injustice. We see you, we hear you, and we are here as allies.
A Resolution from the San Diego State University Senate
San Diego State University has announced a resolution to address training police officers. That resolution directs SDSU to offer free or low-cost courses to law enforcement officers and others within law enforcement and require all criminal justice students to take a course in race relations, criminal justice and policing.
View the full resolution here.
Additional Resources
SDSU Chapter of the National Society of Minorities in Hospitality Resource Page: https://www.sdsunsmh.com/black-lives-matter
The Daily Aztec - University Senate passes resolution to improve training of future law enforcement officers
The content within this article has been edited by Lizbeth Persons.
More PSFA Stories