Jillian Tower: Outstanding Graduate, School of Hospitality and Tourism Management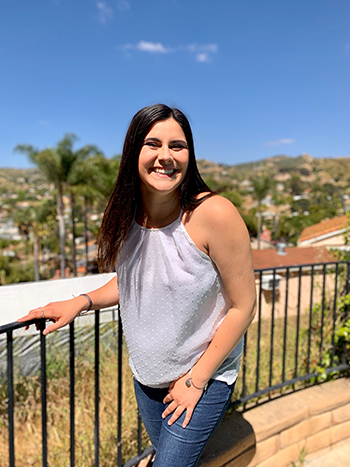 May 29, 2019
Graduating senior Jillian Tower is one of the School of Hospitality and Tourism Management outstanding graduates this year.
Tower worked very hard to be involved at SDSU. She said that she joined the National Society of Minorities and Hospitality, where she was the National Planning director, interned at the Marriott as a Rooms Operations intern and traveled on school trips to Chicago and Joshua Tree.
Post graduation, Tower will be studying abroad in Italy. Tower said that her grandfather who recently passed away used to live in Italy and she is excited to learn more about Italy and connect with her grandfather.
Tower did receive the Hospitality and Restaurant Foundation scholarship for $3,000 to help pay for her study abroad program.
Tower is graduating as a meeting and events student. "My dream is to open my own event planning company and plan both social events and meetings," said Tower.
Tower's hope for her graduating class is that everyone finds their passion and is happy.
"I am definitely a little stubborn, but very driven. I have been through a lot of difficult times in my life, but I am still here, pushing forward. I try my best to keep smiling and pushing through," said Tower.
The content within this article has been edited by Lizbeth Persons.
More PSFA Stories